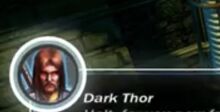 Dark Thor is a clone of Thor. He appears with Dark Spider-Man in front of Odin's imprisoned chamber in the Doom's Lab area at Castle Doom. There are no special conversations initiated with any hero. None even with Thor unfortunately. Dark Thor is only encountered once on the playthrough. He doesn't appear in any comic missions. Withal, he was voiced by Cam Clarke.
Marvel: Ultimate Alliance
Boss Size
Character Portrait
An unique one of him. Different from Thor's default portrait it's Dark Thor with a light blue outline around him and wielding his hammer. It will show in his dialogue box. When locked on, is shown with the HP only on console versions of the sixth-generation.
Equipment
Resist Damage Types
Vulnerable Damage Types
Powers
Massive Hammer Slam
Swings magical hammer in a circle to create a massive whirlwind
Quotes
"You cannot hide from me"
"''Another victory for you, Dr. Doom" ''
"''Soon you will be crushed beneath my mighty hammer!" ''
"''Why do you continue this futile battle?" ''
"''Your courage is strong but your body is weak" ''
"''You will not win against my power" ''
"Forgive me Doctor Doom!"
"''Ha! You hit as hard as a summer breeze" ''
"''You were destined to lose!" ''
"''You haven'th the might to beat me" ''